Litecoin Mining
1
Hi,
Today I released a new version of my popular Litecoin Miner Status program. The tool sits in the background of your computer and monitors various litecoin mining pools for your mining activity. The program does not do any mining of it's own, it simply watches the pools that you mine at to provide you with statistics about how well your miners, and your profits are doing. You can go directly to the application page Here or by the Discography -> Litecoin Miner Status link at the top of this page.
Lots of changes & tweaks have gone into the new program, including the addition of new pools to monitor. If you mine LTC and wish to keep track of your mining rigs or your coins, give the program a try.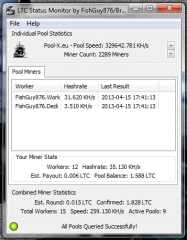 0
Project Update
This project has now been officially released. You can visit the project page (and download the tool) Here or get to it throught Discography tab at the top of the page. Thanks!
I have been working on a new tool for the last couple of weeks to assist Litecoin miners in their quest of mining. As a Litecoin miner myself in this new coin, a few pools started to pop up here and there and there was not much of a way to track what was going on. Hence my tool came along!
A common thing with any coin mining process is hopping, or switching from one pool to another. With my tool, you can see what you are doing across multiple pools, including how much LTC you have mined and how much you have been paid.
The interface is split into 3 main portions. The top part is a "ticker" of sorts that pages through the supported mining pools, showing you the current overall stats of that individual pool such as it's overall mining speed, and the number of individual miners currently working there (and their combined KH/s speed). The middle field view shows the miners you have listed in that specific pool (If any) and what your miners are currently doing there. The base view is an overall view of your current mining summary across all of the supported pools. The tool is quick, easy to use, and sits quietly in the background keeping itself updated.
The tool is currently going through the last few days worth of testing with some close friends and miners, and I hope to have it released in the next couple of weeks once all the fine tuning has been done to it. If you are interested in testing out the tool, feel free to get in touch with me at andy [at] andykellett.com with your information. You can also find me on IRC , irc.freenode.net in #elitist, #litecoin and #rfcpool
Support For Many Pools!
At the time of the release, or unless someone suggests otherwise, the following mining pools will be supported from the initial launch of the application:
Elitist Jerks

Pool-X.eu

OzCoin 
Additional Mining Pools
If you own/run/reccomend another litecoin mining pool that you would like to see added to this program, let me know either by email or in the comments of this post and I will see what I can do to get it in. Your pool must support JSON statistics that can easily be accessed via the web. The tool supports all mmcfe-based pools, I just need to know your details.
The Program Is Beerware!
The program itself will be released as BeerWare, meaning if you like it and you find it extremely handy, you should donate some coin towards a beer or two for the developer! Pool owners who want their pools listed within the app are encouraged to donate a couple of extra beers as well, especially if your pool requires a lot of work to get added (custom JSON etc.) There will not be a charge to buy the program ever, and anyone who does try to sell it for money are trying to rip people off. It will always work the same if you choose to donate or not. Donation addresses to send coin to will be in the About section of the program in various different formats. All donations are truly appreciated 🙂
Donation Addresses
Some people are already asking for donation addresses to bribe with, they are as follows:
LiteCoin: LfrxgdK1PgJQPRkPVDqopQt3FaYVswmp74
BitCoin: 15s2vduLZSBUYDHPANgXVC9DPKz6BesZLj
More details will be released for the program as soon as they are available. Versions will also be made available for Mac & Linux in time. Feel free to comment or ask any questions in the comments section on this post. Initial testing only available to Windows users. Thanks! FishGuy876